Security & Confidential Shredding Services
At Acorn Recyclers, we take the security and protection of confidential information seriously. If your business handles sensitive data, you have a responsibility to keep it safe from identity theft and data breaches. That's where our confidential shredding services come in.
We offer trusted and reliable shredding solutions for businesses of all sizes. Our industrial shredders are not only able to destroy paper, but also IT equipment as required. With our help, you can have peace of mind that your shredding is being handled in a secure and responsible manner.
Don't take chances with your confidential information. Contact Acorn Recyclers today to learn more about how we can help you keep your data safe through our secure shredding services.
Our security shredding process
Here's how our security and confidential shredding process works:
Contact us for a quote based on your specific needs.
We will arrange an ad-hoc collection or schedule regular pickups as part of our commercial shredding services.
Our fully trained operatives will confidentially transfer your waste to our high-security, MOD-approved shredding vehicles and weigh it.
We will collect your materials in our secured vehicle, either on an ad-hoc basis or according to a pre-arranged schedule.
Once your items are back at our secure, 24/7 CCTV-monitored site, they will be shredded and recycled.
For your peace of mind, we will issue a Certificate of Destruction showing the weight and details of the collection, in accordance with BS EN 15713.
With Acorn Recyclers, you can trust that your confidential materials will be handled with the utmost care and security.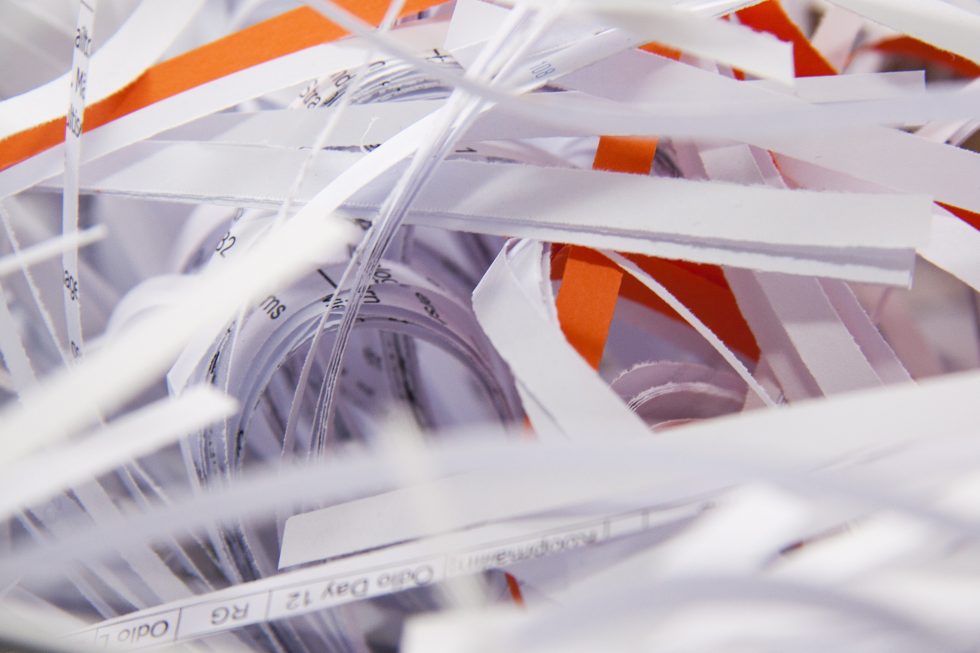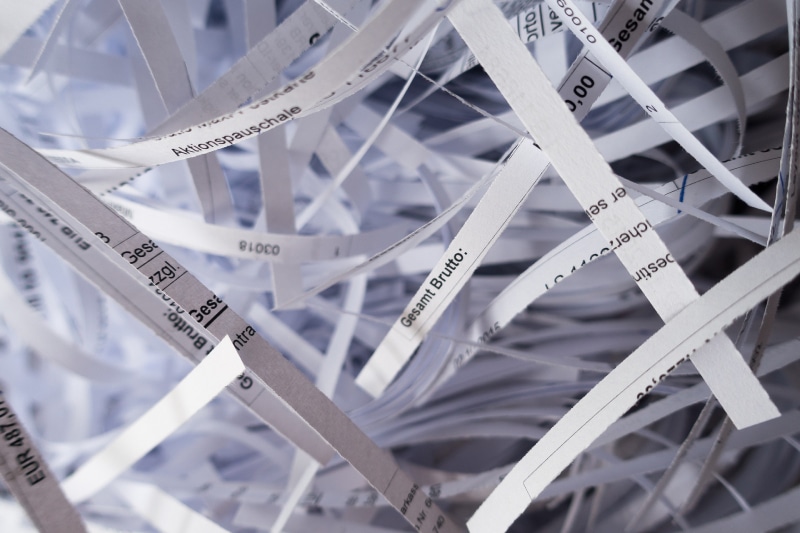 Why is security shredding important?
Security and confidential shredding are important for a number of reasons. First and foremost, businesses have a responsibility to protect personal and sensitive information from identity theft and data breaches. If confidential information falls into the wrong hands, it could have serious consequences for individuals and the business itself.
Confidential shredding helps to ensure that sensitive information is properly disposed of and cannot be accessed by unauthorized parties. By shredding documents and other materials, businesses can protect themselves and their customers from identity theft, financial fraud, and other types of data breaches.
In addition to the practical benefits, confidential shredding is also important from a legal standpoint. Many businesses are required by law to properly dispose of confidential information, and failure to do so can result in fines and other penalties. By using Acorn Recyclers, a trusted and secure shredding service provider, businesses can ensure that they are in compliance with relevant laws and regulations.
Why choose Acorn Recyclers?
There are many reasons to choose Acorn Recyclers for all of your recycling and shredding needs. As an independent, family-run company, we are committed to providing high-quality services with integrity. We have been in business for over 50 years, and our team has the experience and expertise to help you recycle plastic, paper, and other materials in the most efficient and effective way possible.
But what really sets us apart is our commitment to customisation. We understand that no two businesses are the same, and we take a personalised approach to tailor our services to meet the unique needs of each client. This allows us to be flexible and responsive to your specific needs and goals.
So whether you need help with plastic or paper recycling, or you just want to utilise our secure shredding service, Acorn Recyclers is here to help. Contact us today to learn more about how we can support your business.