Security & Confidential Shredding Services
At Acorn Recyclers, we take the security and protection of confidential information seriously. With over 50 years of experience as a trusted recycling company based in Leicestershire, UK, we offer a comprehensive range of services including plastic and paper recycling, alongside our dedicated security & confidential shredding solutions.
Why Choose Our Security Shredding Services?
Experience and Expertise: With our extensive industry experience, we have honed our expertise in secure shredding services. Our knowledgeable team is well-versed in handling confidential information and is dedicated to providing guidance and assistance in managing your data securely.
Reliable and Trusted: We understand the importance of reliability when it comes to handling sensitive information. Our secure shredding services ensure that your confidential documents and data are destroyed effectively, providing you with peace of mind and safeguarding your business and customers from identity theft and data breaches.
Customised Solutions: At Acorn Recyclers, we recognise that each business has unique shredding requirements. We offer tailored solutions to meet your specific needs, whether you require ad-hoc collections or regular scheduled pickups as part of our commercial shredding services.
Secure Transportation and Monitoring: Our fully trained operatives handle your confidential waste with the utmost care and confidentiality. We use high-security, MOD-approved shredding vehicles to transport your materials securely. Our facility is equipped with 24/7 CCTV monitoring to ensure the highest level of security throughout the shredding process.
Certificate of Destruction: To provide further reassurance, we issue a Certificate of Destruction in accordance with BS EN 15713. This document details the weight and collection information, offering an auditable record of the secure destruction of your confidential materials.
The Importance of Security Shredding
Security shredding plays a crucial role in protecting your business and sensitive information. It ensures that confidential data is properly disposed of, preventing unauthorized access and reducing the risk of identity theft, financial fraud, and data breaches. By choosing Acorn Recyclers' secure shredding services, you demonstrate your commitment to data protection and compliance with relevant laws and regulations.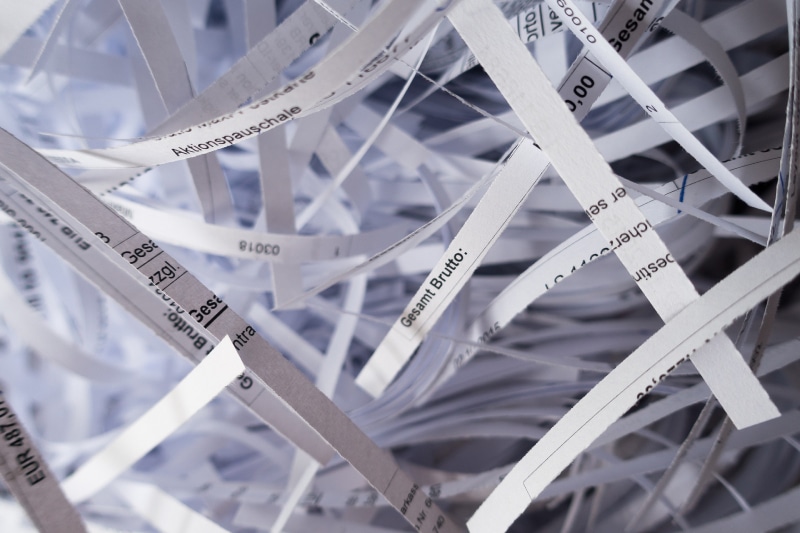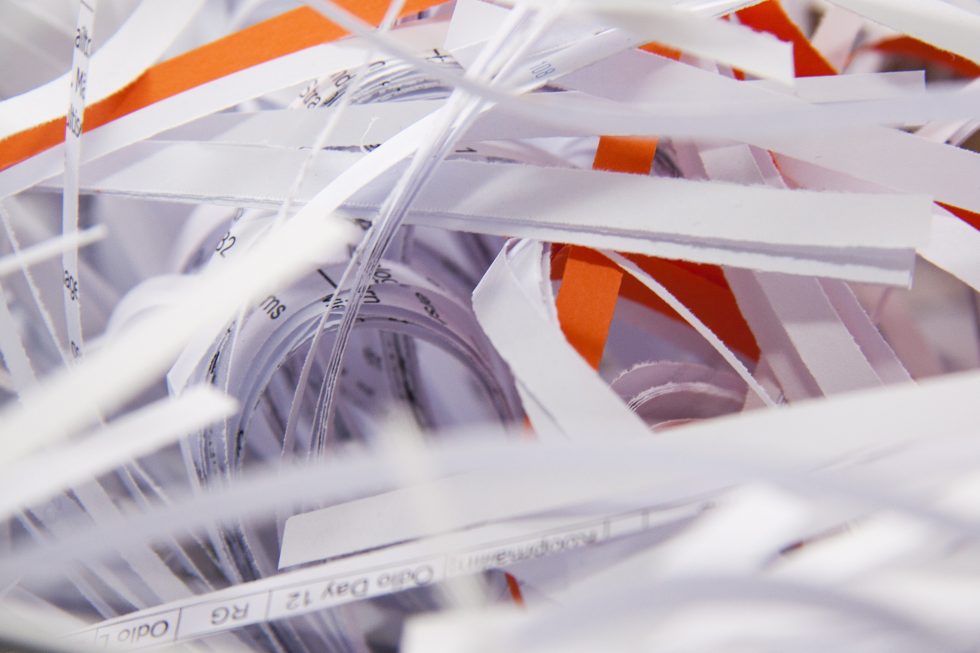 Our Security Shredding Process
Tailored Quote: Contact us to receive a personalised quote based on your specific security shredding requirements.
Collection Arrangements: We will arrange either ad-hoc collections or set up regular pickups as part of our commercial shredding services, depending on your preferences.
Secure Transportation: Our highly trained operatives will securely transfer your confidential waste to our high-security shredding vehicles while maintaining the utmost confidentiality. The weight of your materials will be accurately recorded.
Shredding and Recycling: Once back at our secure facility, equipped with 24/7 CCTV monitoring, your confidential items will be shredded using industrial-grade shredders. We adhere to the highest standards of data destruction to ensure complete irreversibility.
Certificate of Destruction: For your records and compliance, we will provide you with a Certificate of Destruction, which serves as proof that your confidential materials have been securely shredded in accordance with industry standards.
A Comprehensive Approach to Recycling and Shredding
Acorn Recyclers offers a holistic approach to waste management, extending beyond security shredding. As a leading recycling company, we provide plastic and paper recycling solutions, ensuring that your business operates sustainably and responsibly.
Our commitment to customisation sets us apart from the competition. We understand that no two businesses are the same, and we tailor our services to meet your unique needs. Whether you require assistance with plastic recycling, paper recycling, or secure shredding, we are dedicated to supporting your business's recycling goals.
Do not compromise when it comes to the security and confidentiality of your information. Get in touch with Acorn Recyclers today to learn more about our secure shredding services and how we can help you protect your business and clients from the risks of data breaches and identity theft. Let us be your trusted partner in secure shredding and responsible recycling.